The painterly works of Johannes Bosisio (born 1994 in Cavalese, Italy) are treatises of physical energies that are released, for example, in car accidents. Energies capable of deforming, bending, destroying heavy metals such as chrome and iron, while creating new compositions. The ambiguity and the dichotomy that the artist feels when dealing with such events are the very core of his work. Inspired by the 1973 novel "Crash" by James Graham Ballard, the artist examines changes in the human psyche caused by modern technologies and consumer culture.

In Johanne's Bosisio's work, the limbs and organs of mechanical entities lay exposed – sexualized still lifes of the otherwise mundane. His work veers toward the taboo and pushes
Johannes Bosisio studied fine arts at the Weißensee Kunsthochschule Berlin from 2014 to 2020. In 2022 he completed his master's degree at the Royal College of Art and Design in London.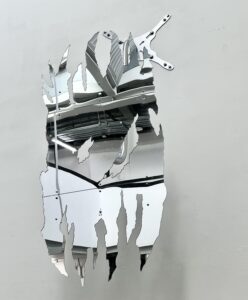 Untitled 2, 2022, Steel and acrylic glass, 150 x 60 x 30 cm